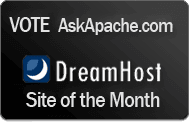 Every month DreamHost has a contest called DreamHost Site Of The Month (DHSOTM) that highlights the highest rated website hosted on DreamHost. By winning the contest your site gets SEO and traffic benefits. My goal is to get the askapache.com site to win. I want to measure any benefits in terms of SEO and traffic. So please, vote for my site, and I will report back on the effects later.
---
What is the DHSOTM
Each month, one happy, lucky DreamHost customer gets their site anointed the SOTM.

See every site that's ever won.

From this page you can submit your own site along with a (brief!) description, as well as vote on the quality of other sites put up for grabs by fellow DreamHosters.

The winner each month is the site with the highest average vote with at least 10 votes when the newsletter is written. They will get the honor of being declared the new DreamHost Site of the Month!

Did we mention there are prizes?

They'll also get to choose one of these nifty logos to put on their site:

...or...
What Could You Win?
If you win the DreamHost Site of the Month (by being the highest-rated site with 10 or more votes when the newsletter is sent out), you will get:

Mentioned in the Newsletter.
Your DHSOTM listing in bold.
Listed in the DHSOTM Archive.
A cool icon for your site!.
The respect and admiration of your peers.
That should be enough!
DreamHost Newsletter Archive
Find Newsletter by Date
1998 | 1999 | 2000 | 2001 | 2002 | 2003 | 2004 | 2005 | 2006 | 2007
1998
Index
1999
Index
2000
Index
2001
Index
2002
Index
2003
Index
2004
Index
2005
Index
2006
Index
2007
« On-Demand MySQL Backup Shell ScriptTop methods for Faster, Speedier web sites »