Description | Download | Installation | FAQ | Screenshots
If your WordPress blog uses AdSense, and you love Firefox you will love this plugin. Makes you money and makes the web a better place. When a user downloads and installs Firefox through your referral, we'll credit your account with up to $1.00 (more details).

This Plugin is no longer being developed.
Description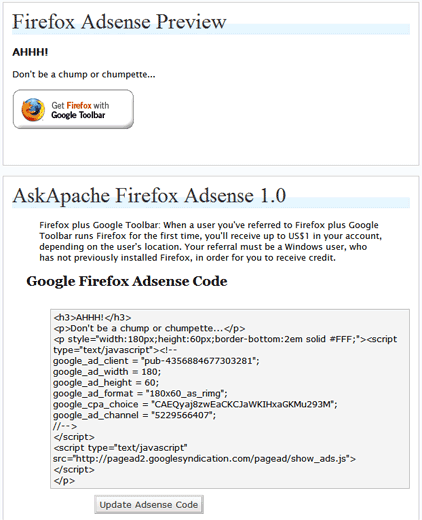 AskApache Firefox Adsense is a simple plugin that displays a Firefox AdSense Ad (Google Referrals) on your blog.

The cool thing is that it will only show the ad to users that are not using Firefox, and only to users running Windows. Those are the requirements to getting paid by Google, and it doesn't show the Ad to the intelligent people already using Firefox (or running linux/non-windows).
Google:

Firefox plus Google Toolbar: When a user you've referred to Firefox plus Google Toolbar runs Firefox for the first time, you'll receive up to US$1 in your account, depending on the user's location. Your referral must be a Windows user, who has not previously installed Firefox, in order for you to receive credit.
---
Downloads
Installation
Upload aa-firefox-adsense.zip to the /wp-content/plugins/ directory
Unzip into its own folder /wp-content/plugins/aa-firefox-adsense/aa-firefox-adsense.php
Activate the plugin through the 'Plugins' menu in WordPress by clicking "AskApache Firefox Adsense"
Go to your Options Panel and open the "AskApache Firefox Adsense" submenu. /wp-admin/options-general.php?page=aa-firefox-adsense.php
Enter in your google firefox adsense code and hit the "Update Values" Button.
Add the code on your pages by including <?php if(function_exists('aa_firefox_ad'))aa_firefox_ad();?> in your templates (1 per page, 1 ad per page).
Frequently Asked Questions
Do I need an AdSense Account?
Screenshots
---
« Come On and Sprite for your WebsiteIs Your Password Crackable? »