Description | Download | Installation | FAQ | Screenshots
You may not think much about verifying your website with these search engines, but I am of the opinion it is extremely good for Search Engine Optimization (SEO). In fact, I read the other day on Google that if you buy a domain with a checkered past that has been punished by the search engines and you want it to be reincluded in the index this is what they recommended. Verify your sites.

---
UPDATE: Now updated for WordPress 2.3.1, and every other 2+ version.
Description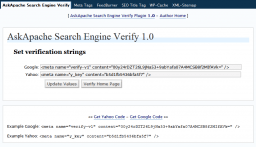 AskApache Search Engine Verify is a simple plugin to add the verification meta tags provided by Yahoo Site Explorer and Google Webmaster Tools to your blogs home page.

Yahoo and Google - Sitting in a tree...
I Joke!
Google Webmaster ToolsYahoo Site Explorer
Downloads
Installation
Upload aa-searchengine-verify.zip to the /wp-content/plugins/ directory
Unzip into its own folder /wp-content/plugins/aa-searchengine-verify/aa-searchengine-verify.php
Activate the plugin through the 'Plugins' menu in WordPress by clicking "AskApache Search Engine Verify"
Go to your Options Panel and open the "AskApache Search Engine Verify" submenu. /wp-admin/options-general.php?page=aa-searchengine-verify.php
Enter in the meta verification tags and hit the "Update Values" Button.
Optionally hit the "Verify Home Page" to view home page's meta tags
Frequently Asked Questions
Do I need a Google Webmaster account and a Yahoo Site Explorer account?
Yes. The plugin options page has links to create both.
Does this output on every page?
No. It only outputs on the home page as per google and yahoos instruction.
Example Output
Here is what the plugin outputs on my homepage.
<meta name="verify-v1" content="00y24rDZT26L9jNa53+9abYafa07A4MCSB8f2MIfAVk=" />
<meta name="y_key" content="b5d1fb5436bfa5f7" />
Verify Home Page output
verify-v1=00y24rDZT26L9jNa53+9abYafa07A4MCSB8f2MIfAVk=
y_key=b5d1fb5436bfa5f7
Screenshots
« Alexa Toolbar Add-On for Firefox Works!Downloading Multiple Files with Curl Simultaneously »