Awesome!!!!!! One of the very finest plugins I have ever seen created for the Firefox Web Browser. Today is the 10th anniversary of the Alexa Toolbar, originally released on July 17, 1997. Do you remember what the Net looked like back then? Netscape was the most popular browser. AOL had released it's first Instant Messenger program in Beta. Jodie Foster's new movie Contact was number one at the box office.
Take a stroll through the past on the Wayback Machine to see what it looked like: Netscape. Yahoo. Excite.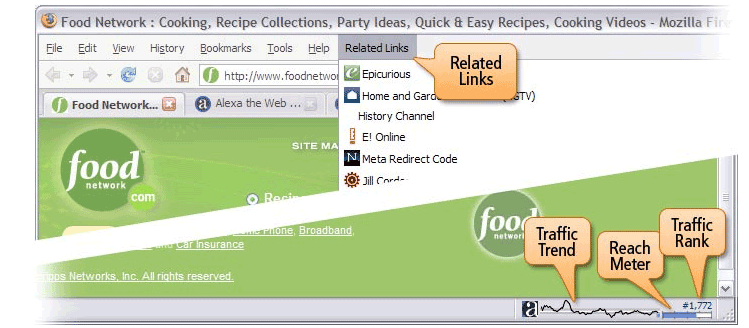 Sparky
If you have a Firefox browser, go here to see Sparky and give it a run.
Traffic Trend
Sparky's trendline feature allows you to track a website's popularity over time, plotting the traffic rank for the last 4 months on a handy little sparkline.
Reach Meter and Traffic Rank
Sparky's reach and rank features give you a quick overview of a site's popularity. The blue bar gives you an overall indicator - is this site popular or not? The rank number tells you exactly how this site ranks in comparison to all other sites on the Web.
Related Links
Sparky also comes with Alexa's famous patented Related Links feature built right into the browser. Now, no matter what site you are on, Sparky can help you find similar sites.
Click Menu
With a click on Sparky you have immediate access to a wealth of additional information. Do a search for the site, find sites that link to it, see who owns it, where it is located, related links and much much more.
« Troubleshooting Apache .htaccess AuthenticationAskApache Search Engine Verify »